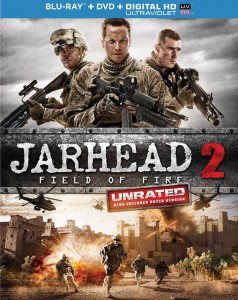 Fans of the 2005 film Jarhead may not have known a sequel was in the works, but instead of a theatrical release Jarhead 2: Field of Fire is headed straight for Digital HD, Blu-ray, and DVD. The digital release of the film will predate the disc releases by a couple weeks, hitting digital video platforms on August 5, 2014. On August 19, Universal will release a Blu-ray Combo Pack with both an R-rated and Unrated version as part of the DVD Originals line from Universal 1440 Entertainment. The Blu-ray edition is formatted in 1080p with a 2.40:1 widescreen aspect ration and soundtrack in English DTS-HD Master Audio 5.1. And, the combo will include a DVD, Digital HD copy via UltraViolet, and deleted scenes as bonus material.
In 'Field of Fire,' U.S. forces in Afghanistan attempt to help a woman who defied the Taliban escape the country safely. The film stars  Josh Kelly (Transformers), (Cole Hauser, Olympus Has Fallen) and Stephen Lang (Avatar, Gods and Generals).
The Blu-ray 2-Disc edition will carry an MSRP of $34.99, and is currently available to pre-order from Amazon for $24.99. Pricing isn't available yet for the early Digital Download or DVD edition.