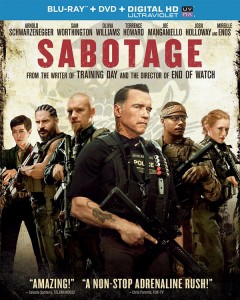 Universal Studios will release the feature film Sabotage starring Arnold Schwarzenegger to Digital HD on July 8, followed by the title's release to Blu-ray Disc, DVD, UltraViolet, and On Demand July 22. In the film, Arnold Schwarzenegger (The Terminator) plays the role of DEA agent Breacher Wharton who leads a daring drug raid gone bad. David Ayer (End of Watch) directed the $35M film that released to select theaters on March 28, 2014.
The 2-Disc combo edition from Universal Studios packs a Blu-ray Disc, DVD and UltraViolet access code to download a Digital HD copy. The edition also includes some bonus material with deleted scenes, alternate endings, and the behind-the-scenes production featurette "Making Sabotage."
Along with Schwarzenegger, the cast of Sabotage features Sam Worthington (Avatar, Clash of the Titans), Olivia Williams (Hanna, "Dollhouse"), Terrence Howard (Iron Man, Red Tails), Joe Manganiello (Magic Mike, "How I Met Your Mother"), Josh Holloway ("Lost") and Mireille Enos (World War Z, "The Killing").