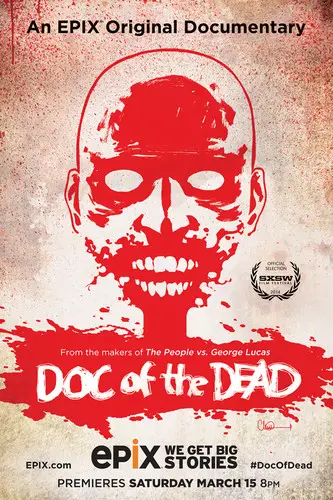 On March 15th EPIX will air the original documentary Doc of the Dead that examines the rise in popularity of zombie movies, TV shows and other media. The airing will be part of an all-day Zombie-thon on EPIX. Starting at 7:35 a.m. ET with the 1984 film Night of the Comet and ending at 4:30 a.m. ET with the French film Zombie Lake (1981).
The Zombie-thon will also feature a re-mastered high-definition version of director George Romero's cult classic Night of the Living Dead, as well as the TV premiere of last year's zombie blockbuster World War Z starring Brad Pitt.
Doc of the Dead was directed by Alexandre O. Philippe and includes genre figures like George A. Romero (Dawn of the Dead), Simon Pegg (Shaun of the Dead), Bruce Campbell (Evil Dead), Greg Nicotero (The Walking Dead) and author Max Brooks (The Zombie Survival Guide, World War Z).
The film will premiere at the SXSW Film Festival in Austin, TX on Monday, March 10.