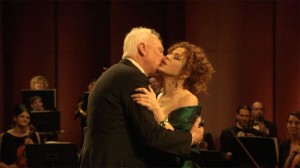 Amazon has launched a new set of original pilots to view on the Amazon Instant Video website, with user reviews helping to decide which pilots become Amazon Original Series. Among the new pilots is the drama/comedy Mozart in the Jungle starring Gael Garcia Bernal (Amores Perros), Malcolm McDowell (A Clockwork Orange) and Bernadette Peters (Pennies from Heaven). Directed by Paul Weitz (About a Boy), the story revolves around the backstage happenings of a symphony.
The pilot episodes range in duration from 12 minutes to 55 minutes and are available to watch for free, either in SD or HD quality, at AmazonOriginals.com (a redirect to the Amazon website's Instant Video section).
The pilots are presented by the insurance company Geico, providing commercial breaks before each pilot.
Kid's Pilots
Gortimer Gibbon's Life on Normal Street

The Jo B. and G. Raff Show

Hardboiled Eggheads

Maker Shack Agency       

Wishenpoof!
Comedy & Drama
The After

Bosch

Mozart in the Jungle

The Rebels         

Transparent