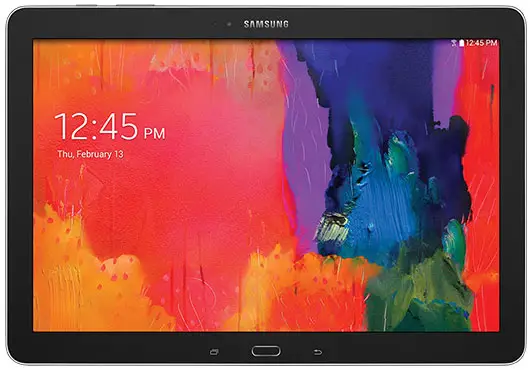 Samsung started taking pre-orders on what are boasted as the world's first 12.2-inch widescreen tablets: the Galaxy Note Pro and Tab Pro. The Galaxy Note Pro 12.2, Tab Pro 10.1, and Tab Pro 8.4 tablets will hit stores on Feb. 13, while the fourth model in the bunch, the Galaxy Tab Pro 12.2, will be available in March. Before the end of Q1, Verizon Wireless says they'll be the first provider to sell the Galaxy Note Pro 12.2 with 4G LTE connectivity.
The new Samsung 12.2-inch tablet displays are high-resolution WQXGA (2560 x 1600) Super Clear LCDs with widescreen aspect ratios of 16:10 and over 4 million pixels.
The Galaxy Tab Pro 8.4 houses an HD display but its selling point is the Snapdragon 800 2.3 GHz quad core processor built to handle processor-heavy games and video.
The 12.2-inch Note Pro and Tab Pro tablets feature Multi Window technology letting users view up to four applications at the same time. The Note Pro, Tab Pro 12.2 and Tab Pro 10.1 also feature a virtual keyboard simulating the size and appearance of a physical keyboard. Of course, all the tablets are Wi-Fi enabled.
Wondering about prices? Here's the spread from Samsung:
Note Pro 12.2: $749.99 (32 GB), $849.99 (64 GB)
Tab Pro 12.2: $649.99 (32 GB)
Tab Pro 10.1: $499.99 (16 GB)
Tab Pro 8.4: $399.99 (16 GB)
Pre-orders are available from Samsung.com, Best Buy, Walmart, Amazon, Tiger Direct, PC Richard and Sons, Fry's, and Newegg.