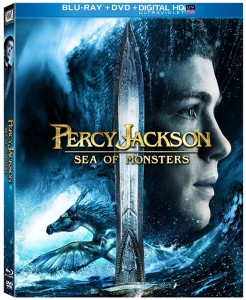 Here's what's new on Blu-ray this week. 20th Century Fox's Percy Jackson: Sea of Monsters is available in either a 2-Disc Blu-ray/DVD/Digital HD edition as well as a 3-Disc edition with additional Blu-ray 3D copy. The Digital HD copy of Fox's Percy Jackson: Sea of Monsters is accessible via the provided UltraViolet access code. The Lone Ranger starring Johnny Depp is now out on Blu-ray. The 2-Disc set from Walt Disney Studios includes Blu-ray, DVD, and Digital Copy stored on the DVD. Sony Pictures has released Justified: The Complete Fourth Season in a 3-Disc set with a total run time of 558 minutes and access codes to UltraViolet Digital HD copies. Elysium starring Matt Damon is also available in a 2-Disc Combo Blu-ray, DVD, and Digital HD copy via UltraViolet. And, for those Schwarzenegger fans among us, 20th Century Fox has released a new edition of Predator that has been formatted in Blu-ray 3D.
Check out our Blu-ray picks for the week below. And, here's a link to all new Blu-ray Disc releases
available at Amazon.
New Blu-ray Disc releases, Dec. 17, 2013
Percy Jackson: Sea of Monsters (Blu-ray/DVD + DigitalHD)
Percy Jackson: Sea of Monsters (Blu-ray 3D / Blu-ray / DVD + Digital Copy)
The Lone Ranger (Blu-ray + DVD + Digital Copy)
Elysium (Two Disc Combo: Blu-ray / DVD + UltraViolet Digital Copy)
One Direction: This is Us (Two Disc Combo: Blu-ray / DVD + UltraViolet Digital Copy)
One Direction: This is Us (3D Two Disc Combo: Blu-ray / DVD + UltraViolet Digital Copy)
Predator (3D Blu-ray / Blu-ray / DVD)
Justified: The Complete Fourth Season
Prisoners (Blu-ray+DVD+UltraViolet Combo Pack)
Ain't Them Bodies Saints
Indiana Jones & Raiders of the Lost Ark
Indiana Jones & Temple of Doom
Indiana Jones & Last Crusade
The Beast Within
Kick-Ass 2 (Blu-ray + DVD + Digital HD with UltraViolet)
Family
Shameless: Complete Third Season