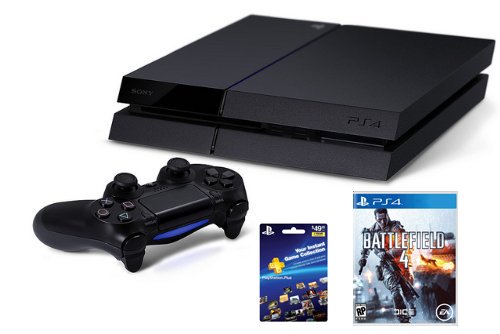 Well, here we go. Today, November 15, 2013, marks the birth of the PlayStation 4. Sony's fourth video game console comes seven years after the launch of the PS3 (11/11/06), and at one fixed price: $399. At the stroke of midnight, thousands of Best Buys, GameStops, and other retailers started selling the system to the masses; Sony held two big events itself, one in New York and one in San Francisco.
Sony's looking to sell 5 million PS4s by the end of its fiscal year in March. In case you're curious, the PlayStation 3 sold 3.5 million units in that time period in 2006-07. Will this be another worldwide success for Sony? Has console gaming jumped the shark? Will the Xbox One crush the competition? These questions and more begin to get answered right now. It's a great day to be a gamer.
Here are 10 necessary nuggets to know about the PlayStation 4:
26 games are available right now.
Every system has a 500GB hard drive, but users can replace it with one of their own.
The PS4's processor combines an eight-core AMD "Jaguar" CPU with an AMD next-generation Radeon GPU and 8GB of 5500MHz GDDR5 RAM.
A PS Plus account is necessary to enjoy multiplayer gaming, but not to use services like Netflix.
The PS4 plays Blu-rays and DVDs, but not CDs or MP3s. 3D movies are also not playable at this time.
The PlayStation Camera is sold separately for $60, but support for the peripheral is not nearly as robust as with Microsoft's Kinect
The PlayStation Vita can play PS4 games remotely.
The DualShock 4 controller has been revamped and met with wide praise thus far.
The controller features a 'Share' button, which, once pressed, allows gamers to save selected footage from their last 15 mins of action.
13 entertainment apps are installed on the system, including Netflix, but there's no support for YouTube yet or Amazon.