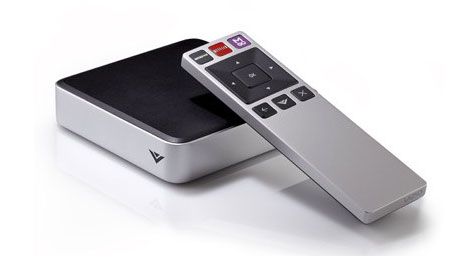 Vizio has announced the $79 Co-Star LT streaming player, a device that turns any HDTV into a Smart TV by adding streaming functions via built-in Wi-Fi and smartphone/tablet second screen integration. The Co-Star LT (model # ISV-B11) incorporates VIZIO Internet Apps Plus, giving you access to entertainment services such as Netflix, Amazon Instant Video, Hulu Plus, YouTube, Vudu, and M-Go. The app selections can also be browsed on-screen without interrupting the current TV show selection.
Second Screen integration also plays a role in the VIZIO Internet Apps Plus smart TV platform. With a supported smartphone or tablet, you can browse titles or switch viewing of a program from your TV to your mobile device. Both live TV and streaming apps are supported by the device.
The Co-Star LT essentially offers the same functions available in the latest VIZIO M-Series Smart TVs. According to VIZIO Chief Technology Officer, Matt McRae, the player "offers standard HDTV owners a simple upgrade option."
The device includes HDMI In/Out ports, a USB port for media playback, and supports full HD 1080p and 3D playthrough.
The Vizio Co-Star LT can be ordered from Vizio.com. Later this month, Vizio says Amazon, BestBuy.com, Target.com, Walmart, and Walmart.com will also offer the product.