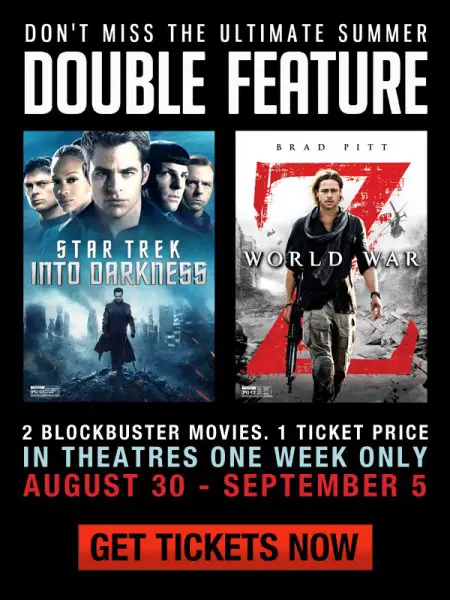 Paramount Pictures has gone retro, bringing back the cinematic double feature with a back-to-back presentation of Star Trek Into Darkness and World War Z for one week only. In what might be the best deal of the summer, theaters are now selling 2-for-1 tickets, offering both films for the price of one.
The double feature presentation starts Aug. 30 and ends Sept. 5. You can use the following link to the Paramount Pictures website to find a participating theater near you and to purchase tickets.
The double feature promotion from Paramount is aimed towards increasing sales of the upcoming home media releases of the two films. Star Trek Into Darkness will hit shelves on Blu-ray Disc, DVD, and On Demand Sept. 10 (although the film was released to digital download about a week ago).
World War Z will be released to Blu-ray, DVD, On Demand and Digital one week later on Sept. 17.
Star Trek Into Darkness earned $227M domestic ($460M worldwide) since its release on May 15, 2013. While World War Z earned $199M domestic ($526M worldwide), since the film released on June 21, 2013.