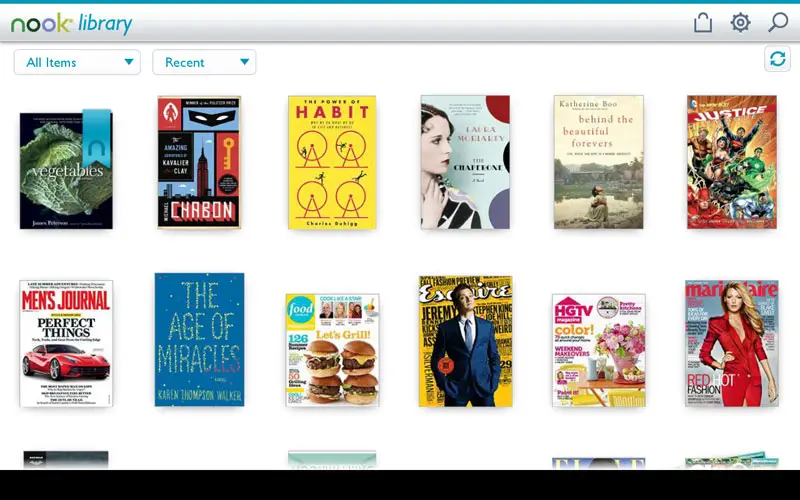 Barnes & Noble has updated the NOOK reading apps for Google Android and Apple iOS devices, with several improvements on both platforms including support for HD magazines and higher quality images. The apps from B&N are free to download from the Google Play Store and iTunes, giving you access to over 3 million books. About a third of the collection (1 million according to B&N), are available free-of-charge. Here's what's new with the NOOK app updates.
The Android Version 3.4 app for NOOK has been updated to display HD magazines on HD-supported devices (1280×720 or higher), includes screen magnification (OS 4.2 or higher) and TalkBack (OS 4.1 or higher) for visually impaired users, and fixed some bugs noted in the previous release. Version 3.4 also provides access on tablets to popular magazines such as SELF, WIRED, and Vanity Fair, and lets you enlarge book illustrations. The app update, released on Aug. 22, requires Android version 2.1 or higher.
The iOS Version 3.4.2 now supports NOOK Comics with ZoomView and animated turns for books. Like the Android update, you also now have the ability to enlarge illustrations for more detail. In addition, the update supports HD magazines on 3rd generation iPads or newer, improves the PDF Reader, and fixes several bugs that caused the app to crash. The NOOK reader app was updated last month and is compatible with iOS 4.3 or later on iPads, iPhones, and iPod touch devices.
Barnes & Noble recently announced a focus on NOOK apps when the company decided to stop manufacturing NOOK HD tablets. (Although, the company never intended to stop making eReaders.) However, the company's new president and CEO of Nook Media, Michael Huseby, has decided to keep the NOOK HD tablets and NOOK HD+ tablets, stating, "the device isn't the problem. The problem is the decisions that were made by management."
In the meantime, Barnes & Noble is continuing to offer the 7-inch NOOK HD tablet for $129 (8GB) and $149 (16GB) in either Snow or Smoke finish. The 9-inch NOOK HD+ tablet (available only in Slate finish) is selling for $149 (16GB) and $179 (32GB). The pricing is available for a limited time only.
Barnes & Noble is also offering a $20 Gift Card with the purchase of any NOOK through Sept. 2, 2013.