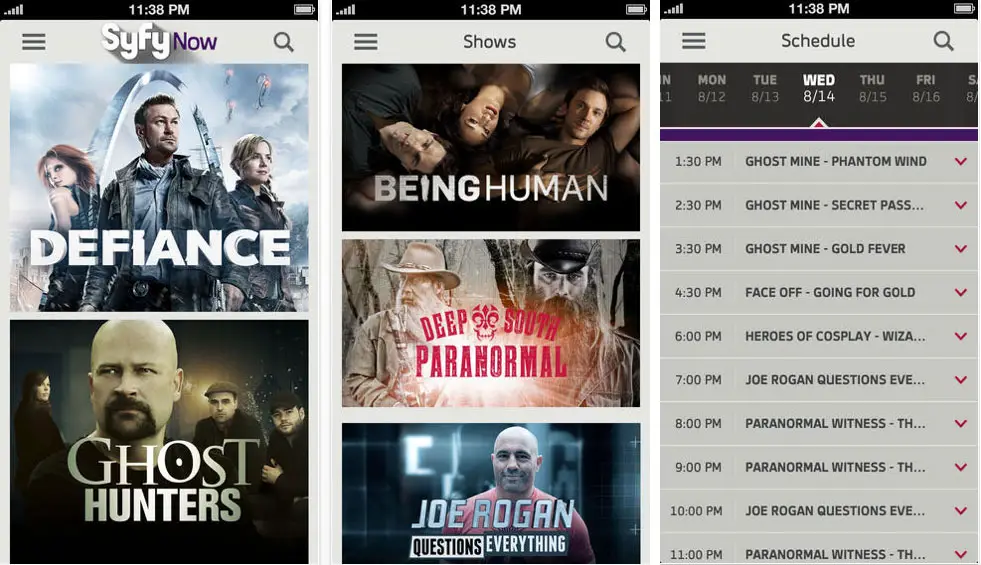 NBCUniversal has updated its SyFy app for Apple iOS iPads and iPhones to let you watch full episodes of shows the day after airing. The updated app also now has a slightly different name, "Syfy Now." To watch full episodes you'll need to authenticate the app with the username and password you use for your TV service provider. Check the list below to find out. If your provider is not showing Syfy you can still take advantage of non-authenticated services such as watching full episodes at later dates, behind-the-scenes video clips, trailers and sneak peaks.
Additional features include episode watchlists with season pass option, cross-device synching with other iOS devices via iCloud, and social sharing with Facebook, Twitter and email.
The SyFy Version 4.0 app weighs in at 17.7 MB and is free to download from Apple iTunes. The app requires iOS 6.0 or later and is optimized for iPhone 5.
NBCUniversal also has a Syfy app for Android tablets, but that app (updated Aug. 15, 2013) does not yet allow users to watch full episodes.
Syfy is now carried by these TV service providers:
Comcast Xfinity
Dish
Verizon FiOS TV
AT&T U-verse
Optimum
Charter
RCN
Wide Open West
Suddenlink
Mediacom
Armstrong