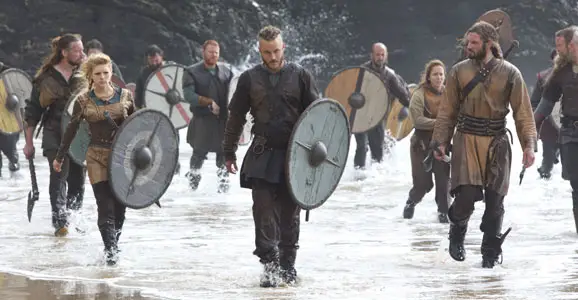 Amazon LOVEFiLM customers in the UK and Germany will soon get access to all nine episodes of History's "Vikings"  streaming in high definition. "Vikings" lands on LOVEFiLM in the UK on May 24, and in Germany on June 24. The exclusive streaming premiere will actually pre-date the traditional television broadcast of the series, a first for LOVEFiLM which Chris Bird, Director or Film Strategy calls "an incredibly exciting landmark in our history."
MGM Television will distribute the series in the UK and Germany, as well as any countries outside of Canada, Ireland, and the US. In the United States and Canada, "Vikings" premiered on the History channel March 3, 2013. The series has since been renewed for a ten-epiosode second season.
Amazon's LOVEFiLM is available on PC, Mac, Playstation 3, Wii and Wii U, Xbox 360, Kindle Fire HD and Kindle Fire, Apple iPad, and select TV sets and Blu-ray players.