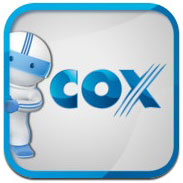 Cox Communications has officially announced TV Connect support for Kindle Fire, Google Nexus, Samsung Galaxy Tab 2 and Note tablets. The Cox TV Connect app (available for Android and iOS), gives Cox TV subscribers access to over 90 national channels such as A&E, CNN, Discovery, History Channel, and TNT. Cox customers will need Cox TV Essential or Advanced TV and Cox Preferred, Premier or Ultimate Internet service to view the channels on tablets anywhere in their home.
Cox also boasts the app allows a "second screen" experience for Apple device owners, letting subscribers watch live programming on iPad, iPhone, and iPod touch.
The Cox TV app for Apple devices can be downloaded from the Apple iTunes store. Kindle Fire owners can get the app from the Amazon app store. And, Nexus and Galaxy owners can download the app from the Google Play store.