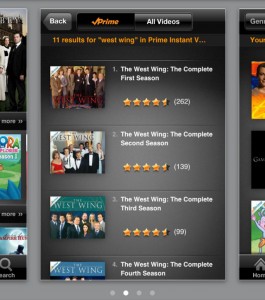 Here's some good news if you're an iPhone or iPod touch owner. Amazon has launched an app for the Prime Instant Video service that will work on the Apple iOS devices, giving Prime subscribers access to over 30,000 movie and TV titles to stream at any time. The app offers features such as "Your Watchlist" (which allows you to create personal movie lists) and "Your Video Library" (which stores your Amazon Instant Video rentals and purchases). The Amazon Instant Video app is downloadable for free from the Apple App Store.
Amazon's Instant Video library also boasts over 140,000 titles movie and TV titles to rent or purchase, including blockbuster titles such as The Dark Knight Rises and Brave.
What about iPad? In case you missed it, Amazon released a Prime Instant Video app for the tablet last summer, which essentially offers the same features. If you already have the app you might download the 1.4 version update released today.
Amazon also announced today the launch of Cloud Player apps for Samsung Smart TVs and the Roku streaming player, allowing Cloud Player customers to access their music library anywhere.
Cloud Player is also available on Mac, PC, Kindle Fire, Sonos Music Players, Apple iPhone and iPod Touch, and Android mobile devices.