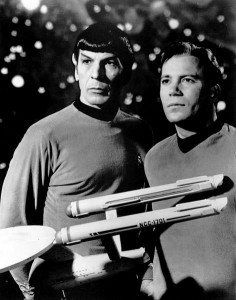 This just in from the wire, Hulu and CBS have announced a licensing agreement to stream archived CBS shows to Hulu Plus subscribers. The content includes episodes from TV series such as "CSI: Miami," "Medium," and "Numb3rs," as well as classic series such as "I Love Lucy," "The Twilight Zone" and "Star Trek" (although we're not sure yet if this includes all "Star Trek" series). The non-exclusive, multi-year agreement will put the CBS content online in January 2013. However, Hulu says over 2,600 episodes from those series will become available to Hulu Plus subscribers in the upcoming months.
As part of the deal, Hulu will also provide day-of-broadcast clips from "Entertainment Tonight" on both the free Hulu and paid Hulu Plus platforms. Some episodes from CBS, according the press release, will also play on the free Hulu.com service.
"This marks another agreement that meets the growing demand for our content on new platforms while establishing other incremental ways to get paid for our library," said Scott Koondel, Senior Vice President of Corporate Licensing, CBS Corporation.
CBS and Hulu recently announced licensing agreements for CBS-produced programming airing on The CW and for CBS content on Hulu's paid service in Japan.
Read more Hulu news at HD Report.