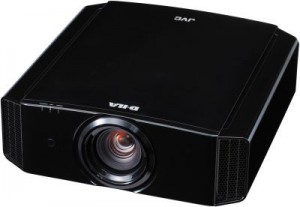 JVC is not letting Sony get all the props for revealing a 4k home theater projector this week. From the UK, the company has provided details on three 4k (also referred to as quad HD) home theater projectors with 3D support. Their top of the line DLA-X90R is built with hand-tested components, boasts 120,000:1 native contrast ratio, and 3840 x 2160 pixel resolution (8 megapixels) thanks to JVC's e-shift technology. The other two models in the line, the DLA-X70R and DLA-X30, boast 80,000:1 and 50,000:1 native contrast ratios, respectively. It should be noted the DLA-X70R, like the DLA-X90R, features JVC's high-rez e-shift technology. Both the DLA-X90R and DLA-X70R also provide ISF and THX Calibration via software. Pricing hasn't been revealed yet but all models are scheduled to ship in November.
[showhide type="pressrelease"]
New JVC Home Theatre Projectors Display Images With 4K Precision
LONDON, September 8, 2011/PRNewswire/ —
Two New Models Upconvert Images to Four Times the Resolution
of Full HD
JVC today introduced the world's first HD upconverting home theatre projectors that display 2D HD content with full 4K precision. They feature JVC's new e-shift technology capable of projecting images with 3840 x 2160 pixel resolution, four times that of full HD. The upconverting technology is available in two of three new 3D-ready projectors that boast a wide range of advancements, including higher native contrast than previous models for levels that remain unmatched by any other home theatre projector.
[1]The new projectors are the DLA-X90R, DLA-X70R and DLA-X30. JVC's 4K e-shift technology is featured in the top two models, while all three new projectors offer other advancements that boost picture quality, improve 3D performance and enhance functionality.
Earlier this year, NHK Engineering Service Inc. and JVC Kenwood Corporation collaborated in the development of a Super High Vision projection system that utilises e-shift technology. Now, that technology is available in the DLA-X90R and DLA-X70R. Using e-shift, 2D HD content is upconverted and scaled to a 4K signal (3840 x 2160) and the e-shift technology displays it at full 4K precision. Compared to a Full HD (1920 x 1080) image, that's twice the horizontal and vertical resolution and four times the number of pixels, or over 8 megapixels. The result is a stunningly detailed image with minimal aliasing artifacts found in standard HD displays.
All three projectors are 3D-enabled and offer several 3D performance and feature enhancements:
– 2D-to-3D Converter – Converts 2D program material to 3D
using technology derived from JVC's professional 2D-to-3D converter.
Included are user adjustments for 3D depth and subtitle geometry
correction.
– JVC's 3D anamorphic feature combined with an optional anamorphic
lens makes it possible to enjoy 3D movies in the popular 2:35 scope
format.
– Compatibility with a wider range of 3D broadcasts, including
1080p/24 and 720p side-by-side formats.
– Brighter 3D images than previous models are possible through the
use of an improved driver that keeps the shutter on the active shutter
3D glasses open longer, thus allowing more light to enter, while at the
same time minimising crosstalk.
– A Crosstalk Canceller further reduces crosstalk through analysis
of the left eye and right eye signals and applying appropriate
correction.
– A parallax adjustment allows the user to tailor the 3D image
effect.
– Direct access to 3D formats and settings on the remote control.
In addition, the top two models – DLA-X90R and DLA-X70R – are ISF Certified and THX(R) 3D Display Certified. During the THX 3D certification process, more than 400 laboratory tests are conducted, evaluating colour accuracy, crosstalk, viewing angles and video processing to ensure the superior out-of-the-box 3D and 2D display performance that home theatre enthusiasts demand.
Other features shared by these two models include:
– Enhanced installation adjustment, including a new 1/16th
pixel adjust function to precisely tune convergence via 121 adjustment
points (11 vertical x 11 horizontal) and an increased number of screen
mode preset positions up to a maximum of 255.
– An upgraded optical engine that further improves black level and
native contrast.
– An expanded range of colour profiles, including 100% Adobe and
five additional positions that are user programmable.
– 7-Axis Colour Management System.
– ISF and THX Calibration via corresponding software to allow
advanced adjustment by certified calibrators.
– Three Xenon lamp colour modes that emulate the characteristics
of high-end movie projectors.
Other new enhancements for all three 2012 projectors are:
– Lens memory function – Three memory settings store custom
focus, zoom and horizontal/vertical lens shift position. This allows a
constant image height display of 4:3, 16:9 and 2:35 scope content
without an additional anamorphic lens.
– An RJ45 connection that provides enhanced system control and
easy firmware or screen mode updates.
To provide enthusiasts with a true measure of performance, JVC has long focused on native contrast and refused to artificially enhance contrast specifications through the use of a dynamic iris. For 2012, native contrast has been improved for the top two models, ensuring that every frame consistently and faithfully reproduces peak whites and deep blacks.
The new flagship projector, the DLA-X90R, is built using hand-selected, hand-tested components and provides a 120,000:1 native contrast ratio. The DLA-X70R offers 80,000:1 native contrast ratio, while the DLA-X30 offers 50,000:1 native contrast ratio.
All three new projectors feature three 0.7″ 1920 x 1080 D-ILA devices and are designed around JVC's third generation D-ILA High Dynamic Range optical engine that is optimised to provide exceptional native contrast ratios without a dynamic iris. In the top two models (DLA-X90R and DLA-X70R) the 16-step lens and lamp aperture adjustment allows the user to optimise the f-number (relative aperture) of the optics system in all steps. The DLA-X30 features a 16-step lens aperture.
The new JVC D-ILA projectors will be available in November.
In addition, JVC announced new glasses – the PK-AG2, which are more compact, lighter and are rechargeable. They are compatible with the currently available PK-EM1 3D Signal Emitter.
JVC Active Shutter 3D Glasses and the PK-EM1 3D Signal Emitter are sold separately.
[/showhide]