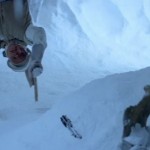 Possibly the only Blu-ray Disc boxed-set to rival "The Lord of the Rings Extended Edition" this year will be the release of "Star Wars: The Complete Saga" set to hit shelves on September 16. To give fans a sneak peak, George Lucas and co. have released an application called the "Star Wars Blu-ray: Early Access App" for all Apple iOS devices including the iPhone, iTouch and iPad.
The app reveals Lucasfilm Archive material that has never been seen before such as concept art, matte paintings, and costume turnarounds. There will also be some samplings of interviews with "Star Wars" cast and crew. All in all, the much anticipated "Star Wars: The Complete Saga" will contain over 40 hours of bonus material on nine discs.
The iOS app will be available to download from iTunes tomorrow, July 20th, 2011. UPDATE: According to sources the app will only be available for iPad users in the U.S. on July 20. iPhone and iTouch users, and those outside the U.S., will have to wait until August for the app. We'll soon find out if this is the case.