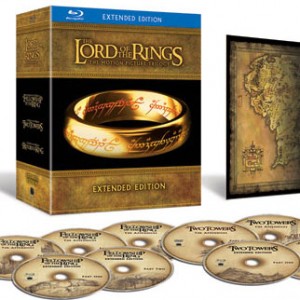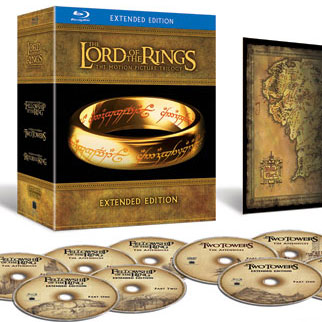 The Lord of the Rings Trilogy Extended Edition on Blu-ray Disc has finally been given a street date of June 28, 2011. Pre-order availability popped up on Amazon and other retailers a couple weeks ago, but we figured we might be looking at a Fall release. June comes as a welcome surprise, especially for those of us who didn't partake in the release of the hi-def theatrical versions to hold us over.
The Lord of the Rings Extended Edition Trilogy on Blu-ray contains six Blu-ray Discs and nine DVDs containing all the features, footage and appendices previously released on DVD. Each film contains added footage not seen in the theatrical versions (30 minutes added to Return of the King; 43 minutes added to The Two Towers; and 50 minutes added to Return of the King). The LOTR Trilogy will also contain digital copies of the film.
Warner Bros is offering a special "Gift Set" which includes a set of 5″ x 7″ Black & White portrait photos of cast members.
Here are links to the extended edition trailer, pre-orders and complete details on The Lord of the Rings Extended Trilogy on Blu-ray.