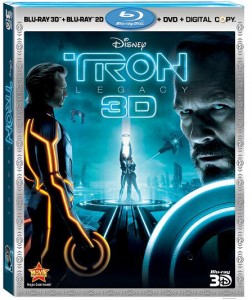 Disney's 2011 theatrical release TRON: Legacy is headed for Blu-ray Disc, DVD, and digital download on April 5, 2011. The release will also include the original 1982 film Tron, packaged as TRON: The Original Classic Special Edition. TRON: Legacy will be formatted in both Blu-ray and Blu-ray 3D with 1080p video resolution and 7.1 channel surround sound.

The releases will showcase some new technology. Disney Second Screen is a new feature which will allow cross device synched viewing of the story behind the film. Meaning, you can switch from an iPad to a laptop seamlessly without missing any content.
Disney Second Screen will also let viewers access deeper content via internet connected devices. 360-degree vehicle turnarounds and interactive progression reels will be accessible with access codes provided in the BD packaging. (Audio synching is powered by TVPLUS.)
Tron: Legacy
(Five-Disc Combo Blu-ray 3D/Blu-ray/DVD/Digital Copy +
Tron: The Original Classic Special Edition
on Blu-ray –
Pre-Order
from Amazon.