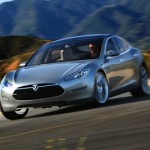 Panasonic makes all kinds of electronics, from plasma HDTVs to digital cameras and microwave ovens. Now Panasonic will get into the car business, investing $30 million in Tesla Motors Inc., a Palo Alto, California-based company that designs and manufactures electric vehicles.
By purchasing Tesla stock at $21.15 per share, Panasonic will own about a 2-percent share in the company. The companies will partner on developing and selling battery packs for electronic cars. (Panasonic already makes batteries for Tesla.)
Tesla currently has only one electric car on the road — the Tesla Roadster which gets about 200 miles on one charge but is pricey at $109,000.
Tesla Motors was given $465 million in low-interest loans from the US government in 2009 to help develop the Model S electric-powered sedan capable of driving up to 300 miles on one charge. The car is scheduled to be delivered to customers in 2012. The Model S is expected to sell for US$57,400 (or US$49,900 after a $7,500 US federal tax credit).