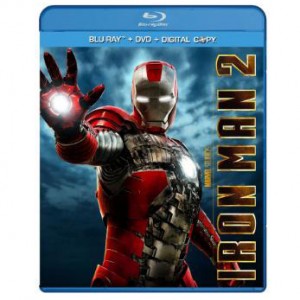 Iron Man 2 is headed your way on Blu-ray Disc. The film that stars Robert Downey Jr. once again as Tony Stark did $300 million domestic at the box office on a $170 mil production budget. The movie will be available as a three-disc Blu-ray/DVD combo pack with digital copy, a limited edition two-disc DVD with digital copy, or a single disc DVD. Scheduled street date for Iron Man 2 is September 28, 2010.
Iron Man 2 on Blu-ray Disc is presented in 1080p resolution with English 5.1 DTS-HD Master Audio. Highlights include optional feature commentary by Jon Favreau, a documentary "Ultimate Iron Man: The Making of Iron Man 2" in HD, Featurettes in HD, Deleted Scenes with optional commentary in HD, Previsualization and Animatics in HD, and a look into the Marvel Cinematic data vault — referred to as S.H.I.E.L.D.
Iron Man 2 is now available for pre-order! Click here to purchase the 3-Disc Blu-ray set. Amazon guarantees you'll pay the lowest price before ship date.
Iron Man 2 three-disc set detailed:
Disc 1 (BD 50) contains the movie in HD with optional commentary.
Disc 2 (BD 50) contains the making-of documentary, featurettes, and deleted scenes.
Disc 3 (DVD) contains a digital copy and the movie in standard-definition.
Here are the full details on the Blu-ray 3-Disc release:
Disc 1 (Blu-ray):
  —  Feature film with optional commentary by Jon Favreau (HD)
  —  S.H.I.E.L.D. Data Vault (HD)– Extend your knowledge of the Marvel
      Cinematic Universe with high-level clearance into S.H.I.E.L.D.'s
      digital data vault. Interact with select scenes from the movie that
      include new layers of graphics and insider information. View case
      files, dossiers, S.H.I.E.L.D. training films, tech details and more.
  —  Previsualization and Animatics (HD)
Disc 2 (Blu-ray):
  —  Ultimate Iron Man: The Making of Iron Man 2 (HD)
      —  Rebuilding the Suit–An all-encompassing look at the beginning
          stages of this mammoth blockbuster.
      —  A Return to Action–From Marvel Studios to the streets of Monaco,
          Jon Favreau takes viewers through the trials and triumphs of
          continuing Iron Man's story.
      —  Expanding the Universe–From the amazing sets of Stark Expo to
          Tony Stark's home and beyond, the Marvel Universe continues to
          unfold into new and exciting places.
      —  Building a Legacy–From filming to editing, scoring and visual
          effects, Favreau and his team face the challenges of bringing the
          sequel to the big screen.
  —  Featurettes (HD)
      —  Creating Stark Expo–A look at how the sets and computer-generated
          elements combine to create the massive set piece.
      —  Practical Meets Digital–How the "practical" props inform the
          "digital" work that ultimately brings our hero to life on screen.
      —  Illustrated Origin: Nick Fury–A comprehensive journey into
          creating one of the most mysterious and influential heroes in the
          Marvel Universe.
      —  Illustrated Origin: Black Widow–An exciting look at the new femme
          fatale introduced in Iron Man 2.
      —  Illustrated Origin: War Machine–A look at the introduction of the
          character and how his friendship with Tony Stark resonates with
          fans.
      —  Working with DJ AM–Jon Favreau remembers working with Adam
          Goldstein.
  —  Deleted Scenes with optional commentary by Jon Favreau (HD)
      —  Alternate Opening
      —  Coulson at the Senate
      —  The Sub-Orbital Jet
      —  Tony's Workshop (extended)
      —  Natalie Wears the Gauntlet
      —  Flying Party Girl
      —  Mark II Security
      —  Element Rediscovered (extended)
  —  Concept Art Gallery
  —  Theatrical Trailers (HD)
  —  Music Video: AC/DC "Shoot To Thrill"
Disc 3 (DVD):
  —  Feature Film
  —  Digital Copy