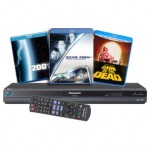 Amazon is bundling three Blu-ray Discs from selected titles with the purchase of the Panasonic DMP-BD65 Blu-ray player. The BD player is currently on sale for $139.98, normally priced at $179.95. There are about 100 selected Blu-ray titles to choose from.
The Panasonic DMP-BD65 supports full HD video and 7.1-channel studio-quality audio (Dolby TrueHD & dts-HD Master Audio). The player is also wireless ready with fast 0.5 second startup and VieraCast technology enabling Amazon Video on Demand and Netflix streaming.
A few notable Blu-ray titles in the offer include Star Trek VIII: First Contact [Remastered] (1996), Dawn of the Dead (1978), 2001: A Space Odyssey (1968), Hellraiser (1987) and The Untouchables (Special Collector's Edition) (1987).
The discount for the Blu-ray discs will be applied automatically when you checkout. Check out the 3-Disc offer from Amazon. (Only good while supplies last.)