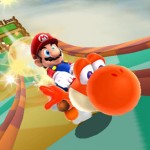 You know, it's months like May 2010 that make it great to be a gamer. With so much happening this month, I'm actually surprised you're reading this and not tethered to your 360 or waiting impatiently outside your local Gamestop. What makes this such a good month for video games? Well, take a look:
Halo Madness – The Halo: Reach multiplayer beta is already open to Gold members of Xbox Live, but starting May 14th, it'll be made available to Silver members as well. Act quick though – while this is a nice little treat from Microsoft and Bungie, it'll only be available for those with Silver accounts for 72 hours. Still, that should be more than enough time to get your Halo jollies in before the beta closes. The Halo: Reach multiplayer beta will be open to Silver members from 9:00 PM on May 14th to 9:00 PM on May 17th, and you'll need a copy of Halo 3: ODST in order to access it.
New Releases – May is going to see a slew of new releases, with some of them being among the most anticipated games of the year. Skate 3 is set to release on May 11th, along with the Game of the Year edition of Batman: Arkham Asylum – which gives you an excellent reason to pick this one up if you missed it the first time around. Perhaps the biggest day in May, though, is going to be the 18th. The floodgates are going to open once the 18th rolls around, and gamers are going to be treated to such games as Alan Wake, Prince of Persia: The Forgotten Sands, and Red Dead Redemption. Oh yeah, and everyone's favorite suspender wearing plumber returns this month via Super Mario Galaxy 2, which drops on May 23rd.
So, we have a lot of cool releases and one pretty exciting beta happening this month. That's not to mention the fact that everyone in the gaming community is gearing up for E3 next month, and after looking at the listed of games IGN expects to be previewed, E3 2010 will definitely be one to keep an eye on.