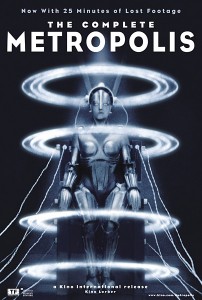 Fritz Lang's 1927 sci-fi masterpiece Metropolis has undergone new restoration and will release as The Complete Metropolis on DVD and Blu-ray Disc in November, 2010. The 147-minute restored version premiered at the Berlin Film Festival on February 12, and will show in Grauman's Chinese Theater in Hollywood, CA on April 25.
Metropolis was originally screened in 1927 and ran an estimated 153 minutes. However, to make the film more commercially viable the film distributors (Ufa in Germany, Paramount in the U.S.) shortened the film to about 90 minutes.
After several restorations the film was brought to 124 minutes in 2001, a version thought to be the most complete Metropolis fans would ever see. But the latest restoration of the film adds 25 minutes of lost footage, found in a 16mm dupe negative that has not been seen since the film debuted in 1927.