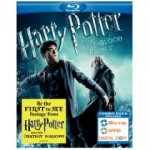 Select Blockbuster stores will open at midnight tonight for the release of Harry Potter and the Half-Blood Prince. The film, which has grossed $300 million domestic and close to a $1 billion worldwide* will be released on both Blu-ray/DVD combo disc and standard DVD (single-disc and two-disc versions).
Harry Potter and the Half-Blood Prince on Blu-ray Disc and two-disc DVD will come with digital copies (for your iPod or phone) and include extras such as additional scenes, cast and crew interviews, and featurette "J.K. Rowling: A Year in the Life."
The Blu-ray disc is formatted in 1080p VC-1 with 2.35:1 aspect ratio. Audio is formatted in Dolby TrueHD 5.1 surround sound. Other Blu-ray features include BD-Live, Live Community Screening and Facebook Connect.
List price for Harry Potter and the Half-Blood Prince is $35.99. If midnight is way past your bedtime you can pre-order the Blu-ray or DVD from Amazon for $15.99 (current sale price).
Below are the participating Blockbuster stores:
Atlanta: 3944 Peachtree Rd.
Baltimore: 6505 Dobbin Rd., Columbia
Boston: 17 Temple St, Framingham
Charlotte: 5130 Ballantyne Commons Pkwy.
Chicago: 809 N. Roselle Rd., Roselle
Cleveland: 1205 N. Court St., Medina
Columbus: 397 Stonebridge Ln., Gahanna
Dallas: 6437 Hillcrest Ave.
Denver: 12020 Colorado Blvd., Thornton
Detroit: 15200 Eureka, Southgate
Houston: 225 Cypresswood Dr., Spring
Los Angeles: 10011 Valley View, Cypress
New York: 1253 New Britain Ave, West Hartford
Orlando: 11849 East Colonial Drive
Philadelphia: 500 Route 38 West, Cherry Hill
Phoenix: 3141 S. McClintock Dr., Tempe
Portland: 3955 Southeast Powell Blvd.
San Francisco: 116 Greenhouse Market Place, San Leandro
Seattle: 4715 25th Ave. NE
Tampa: 2133 Collier Pkwy., Land O Lakes
* Box Office Mojo