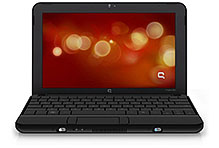 Verizon is having a special FiOS sign-up offer until 9/19/09 where you can get a free Compaq Mini Netbook. The Compaq Mini is redeemable via coupon and new customers must use the service for 60 days. The FiOS installation has to accomplished by 10/15/09.
The triple service from Verizon includes FiOS TV, Internet and Phone for $119 a month with a one-year agreement. New customers must pay for shipping and taxes on the Compaq. Other bundle offers give you an option of a Flip Ultra Camcorder instead of the Compaq.
You can call 1-866-709-3467 to check for service in your area or inquire on the Verizon website. Signups online get $5 off per month for one-year.