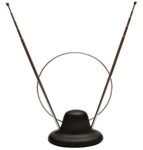 As we enter the first weekend in the U.S. without analog television signals, you may be having some trouble getting good DTV reception or receiving certain channels. Here are a few tips to help you get the most available channels and best quality HD over-the-air.
1. Make your cables are all tight and secure. Sometimes a loose coaxial cable will cause your reception to flicker or drop out.
2. Make sure you have an appropriate antenna. Older rabbit ear antennas will pick up VHF stations but DTV uses both VHF (for channels 2-13) and UHF (for channels 14-51). If you have an antenna with both rabbit ears and a loop, you are using the right antenna.
3. Check for obstructions. Indoor antennas tend to have the most difficulty getting reception. Try moving the antenna to slightly different positions, like closer to an exterior wall and rescan for channels.
4. Try using an outdoor antenna. Outdoor and especially rooftop antennas have less obstructions and therefore can get cleaner reception. If you can get some channels strongly but others come in weak, try using a rotating antenna which can turn in the direction of broadcast stations.
5. Check signal strength on your converter box. Many digital-to-analog set-top boxes feature a meter to measure the strength of the digital signals. You can usually access this through the menu options.
6. Find out where your local broadcast stations are located. By using the FCC's DTV reception map you can find out which stations near your zip code have strong signals and which are moderate, weak, or provide no signal.
7. Finally, scan and rescan. After you adjust your antenna, you should rescan for the digital channels. Moving the antenna just slightly can make a world of difference.
If you need to purchase an antenna, Amazon has a large selection
to choose from. If you need more information on DTV, you can refer to http://www.dtv.gov/.