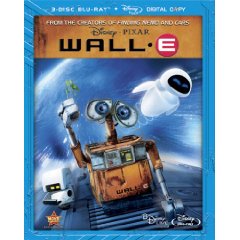 Disney/Pixar's animated film "Wall•E" will be released this coming Tuesday on DVD and Blu-ray. On DVD, you'll be able to choose between single-disc and three-disc versions. On Blu-ray, there will be 2-disc and 3-disc versions. A specially designed environmentally friendly package will be available to the first 100,000 customers who order the DVD.
The environmentally friendly package for the DVD contains no plastic and is made from 100-percent recyclable cardboard. The Blu-ray version of the package is 30% smaller than the standard DVD package, although it is not clear from the press release whether it will be made of cardboard or plastic — most likely the standard plastic Blu-ray packaging.
Disney/Pixar are releasing both a 2-disc and 3-disc Blu-ray version of the movie. The 2-disc version ($35.99) comes with BD Live, a behind the scenes documentary and twenty three minutes of deleted scenes among other features.
The Wall•E Three-Disc Special Edition ($40.99) contains the same features and deleted scenes footage but also includes a digital version of the movie which you can transfer to your iPod, iPhone or other compatible device.
Both high-definition discs and the standard DVD versions are available for pre-order. Currently, both the 2-disc and 3-disc are being offered for $24.99 through Amazon
.