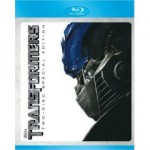 A recent poll of random HD-Report users asked which fall Blu-ray release they are most looking forward to. The most votes went to the Transformers (Two-Disc Special Edition) which won with 23% of the votes. Transformers was released on Tuesday and is currently the second most popular Blu-ray disc on Amazon. Coming in second with 20% of the votes was Casino Royale (Collector's Edition, 2 discs) slated for October 21 release.
The third most anticipated Blu-ray release was The Ultimate Matrix with 18% of the votes which will be released Oct. 14. Iron Man, which is currently the best selling BD on Amazon even though it has a street date of Sept. 30, had 13% of the votes. Other titles which made up 16% of the votes were Indiana Jones and the Kingdom of the Crystal Skull, Kill Bill Vol. 1 & Vol. 2, When We Left Earth – The NASA Missions, and JFK.
This will be the biggest year for Blu-ray yet, if holiday sales do as well as predicted. With no competition from HD DVD, Blu-ray is the only choice this year for high-definition home media.
Blu-ray movie prices are down for the most part since last year. While the MSRPs for titles have stayed the same, Amazon and other retailers have had sales of up to 40% where you can get a $30 or $35 BD for $20.
Sony has also got a couple Blu-ray Disc players in a more reasonable price range. The Sony BDP-S300 is selling new for around $300 and the updated BDP-S350 is priced around $350. It is expected that a $200 BD player will be available from major retailers for the holidays. If that happens you will see consumers getting started on building their hi-def libraries.
View the poll results.