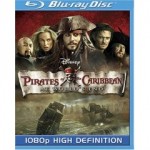 A sale at Amazon discounts Disney Blu-ray Discs at 40%. Regularly priced $34.99 Blu-ray discs are now $20.95. Regularly priced $29.99 discs are now $17.95. Some Disney titles worth mentioning are Pirates of the Caribbean (all three from Disney), Cars (Disney), Apocalypto (Touchstone), Enemy of the State (Touchstone), Flightplan (Touchstone/Disney), No Country for Old Men (Disney) and 66 more according the latest list from Amazon.
This is the price point Blu-ray discs need to be at in order to sell in larger quantities. When buyers see they can get a Blu-ray Disc for close to the price of a new or premium title DVD, they will strongly consider a BD player purchase.
A real bargain I found was Jay and Silent Bob Strike Back at only $10.95, a discount of 63%.
Amazon is also taking orders for a Kill Bill 2-pack (Volumes 1 & 2) which will be released on September 9. The two-disc set is currently selling for $39.99 — 43% off the retail price of $69.98.