Anyone who's played FIFA 08 on Xbox 360 has only gotten a taste of true next generation soccer. FIFA 08, which ships this fall for PlayStation 3 and Xbox 360, features a finely-tuned next generation game engine that's been two years in the making. The result that I saw at an Electronic Arts event up in Vancouver, where they develop the international best-selling franchise, is unbelievable.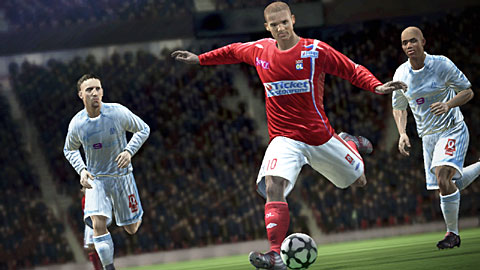 Thanks to advances in the engine technology, gamers will now be able to control every aspect of the ball on the pitch-right down to slowing the ball speed down while you dribble. Player locomotion, dribbling the ball and shooting are all now linked directly to the attributes of each player.
And if you like depth, try this on for size. FIFA 08 features over 30 soccer leagues (including Italian Series A, Bundesliga, Spanish Primera Division, Mexican Primera Division, English Championship, English Division One, and, the English Premier League) and over 15,000 players. Each one of these players has 60 attributes. These unique attributes directly correlate to how the virtual player performs on the filed, both when you're controlling him and when the computer AI is steering him.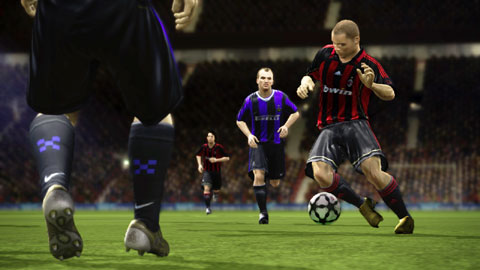 Sine the fundamental philosophy of the sport of soccer is human error–hence so many low-scoring games in real life–EA Sports has added that to the videogame. There are 15 different attributes for human error in this game's shooting system. Other things that will impact scoring are the force applied to the kick and the spin of the ball. Even minute elements like air resistance and backspin will impact the arc of the ball as it travels toward the goal. That translates to no more automatic goals. Just like in real life, human factors will impact where or not the ball goes into the net. This should make the game not only more realistic, but more fun, because you'll really never know if that shot you lined up is going to score.
When it comes to animation, the players in FIFA 08 borrow technology from EA Sports NBA Street Homecourt game. Using this Stayflow technology allowed the team to create branching animation and skill moves in the game, which players can string together for unique moves on the field.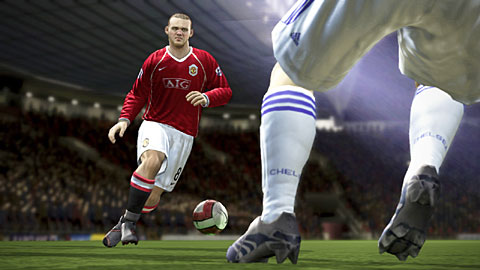 The ball can now be moved independently with real physics, which adds a new dimension to gameplay. You can literally stop dead in your tracks, pivot and shoot the ball, but the odds of that going in are less than if you're running down open field and then charge for the net. A difficulty meter will track every shot to give you a sense of where you're at in terms of strategies for shooting on-the-fly.
Another new feature in the game is the Be a Pro mode, which is a variation of the NFL Superstar mode from Madden a few years ago. Players can choose a position on the field and then play as that player the entire game–whether you have the ball or not. The camera will follow you in this mode and if you're good, there will be unlockable content that can be used in the regular modes of the game.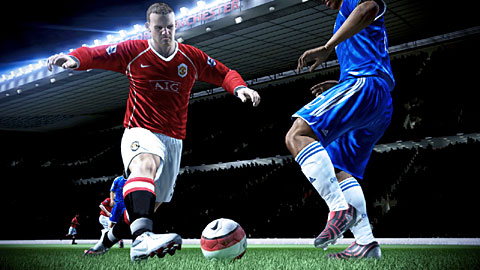 I was able to control Ronaldhino, the cover athlete for FIFA 08, around a field at night and it's immediately evident how the branching animation system changes the appearance of the players. These virtual superstars already look lifelike thanks to next generation graphics. Now they move more lifelike thanks to fluid step-overs, jukes and passes. Everything feels organic and looks realistic. Another nice touch that I experience in this playable demo was a God of War-style close-shoulder camera perspective that takes effect when you're running towards the goal. Although you're less skillful and agile in this mode, you're moving at top speed and the whole field becomes like a blur. Soccer fans definitely have something to get excited about this year.