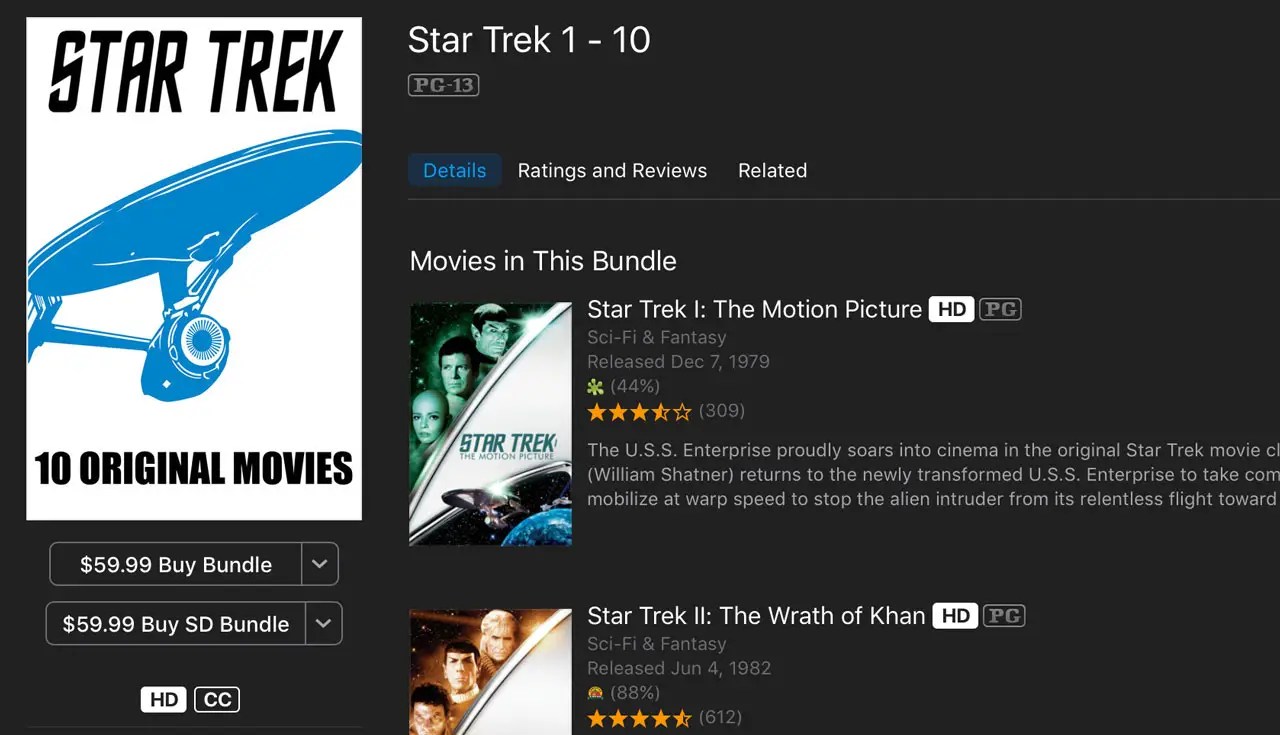 Apple iTunes has got a great deal on the first ten Star Trek films in the franchise. Packaged as "Star Trek 1-10", you can buy the entire 10 Original Movies bundle in HD for just $59.99. (You can also purchase the SD bundle for the same price, but why would you?)
Typically, Star Trek fans refer to the "original" films as those who starred cast members from the original crew such as William Shatner, Leonard Nemoy and DeForest Kelley beginning in 1979 with Star Trek: The Motion Picture. The movies that followed are referred to as "The Next Generation" films and are easily identifiable by the star of the series Patrick Stewart. TNG films started in 1996 with Star Trek VIII: First Contact.
Hence, don't be confused by the reference to "original films" as iTunes has kind of got the graphic wrong. The bundle does not include what is often referred to as the "reboot" series that started in 2009 with Star Trek starring Chris Pine.
The iTunes "Star Trek 1-10" bundle includes:
The Original Series films
Star Trek: The Motion Picture (1979)
Star Trek II: The Wrath of Khan (1982)
Star Trek III: The Search for Spock (1984)
Star Trek IV: The Voyage Home (1986)
Star Trek V: The Final Frontier (1989)
Star Trek VI: The Undiscovered Country (1991)
The Next Generation films
Star Trek Generations (1994)
Star Trek: First Contact (1996)
Star Trek: Insurrection (1998)
Star Trek: Nemesis (2002)
Now, keep in mind Apple has promised films purchased in HD will automatically be upgraded to 4k. So, there is a good chance if Apple ever gets the first ten Star Trek films in 4k you will get the upgrade at no extra charge. But, that could be years from now.