It used to be that digital movie and TV show redemption codes were good for 2 to 3 years, but now it seems those expiration dates have gotten shorter. Take for example the new release of Wonder Woman to Blu-ray. The redemption code deadline is only one year from now, on Sept. 30, 2018. That's the shortest expiration date we've seen in packaged media.
Digital code expirations do vary by publisher though. For example, this month's Fox release of Blade Runner to 4k Ultra HD doesn't give an exact date or even certainty of expiration. Rather, the small print states "Digital HD Code May Not Be Valid After 2019." The same is stated on their Blu-ray editions of Alien: Covenant.
Sony's 4k Blu-ray release of The Da Vinci Code in Oct. 2016 has a digital expiration date of Dec. 2019, more than three years from the release date.
Paramount's release of Jack Reacher: Never Go Back (Jan. 2017) and Ghost in the Shell (July. 2017) both printed digital expiration dates of two years after street date, on Jan. 2019 and July, 2017, respectively.
The Fate of the Furious (July, 2017) from Universal didn't seem to have an expiration date at all. Instead, the paper insert warns "Redemption code subject to expiration."
So the question is whether or not Wonder Woman will be the start of a trend to shorten digital expiration dates, or will the one-year timeframe only hold true for certain titles.
We've also noticed a disclaimer on the Wonder Woman release in bold caps for anyone thinking of reselling the digital redemption code. It says, "THIS DIGITAL MOVIE OFFER MAY NOT BE RESOLD OR OTHERWISE TRANSFERRED."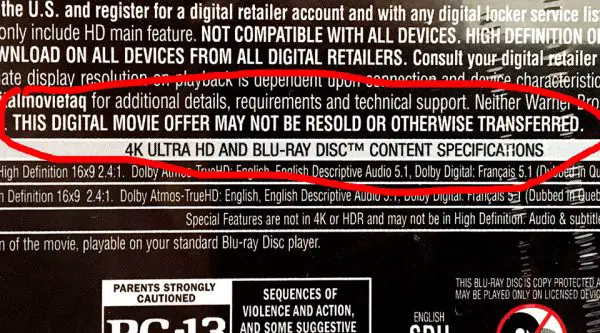 There are hundreds, if not thousands, of digital resellers on social websites such as Facebook and Google Plus. Does that mean they are in danger of being fined? If the studios are toughening up on digital distribution, it might be time to get rid of all those extra codes before those social pages are taken down.