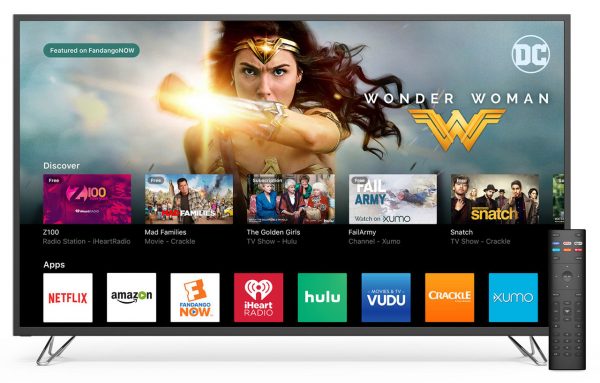 The VIZIO SmartCast TV platform is now available on all of last year's (2016) VIZIO 4k Ultra HD TVs including the SmartCast E-Series, M-Series, and P-Series models, available via an update through internet-connected VIZIO SmartCast TVs.
Along with the announcement, VIZIO has also added FandangoNOW to the Smart TV platform, providing another option for streaming Digital UHD (4k) content to supporting 4k TVs. The app joins the popular lineup of smart apps from services like Amazon Video, Crackle, Hulu, iHeartRadio, Netflix, and Vudu.
The SmartCast platform also includes built-in Chromecast, allowing Chromecast-enabled apps and the streaming of 4K and HDR content from services such as Netflix and Vudu.
However, not all owners of eligible VIZIO 4k TVs have the right remote control to utilize SmartCast. To make amends, VIZIO is offering the XRT136 remote free or for a "nominal fee." The SmartCast remote features the V-button for easy access to the user interface, as well as shortcut keys to popular apps.
Jump over to the web page VIZIO.com/remote and enter the serial number of your VIZIO 4k TV to see if it qualifies.
SmartCast functions can also be controlled via the VIZIO SmartCast Mobile app for iOS and Android mobiles, also free from iTunes and Google Play.