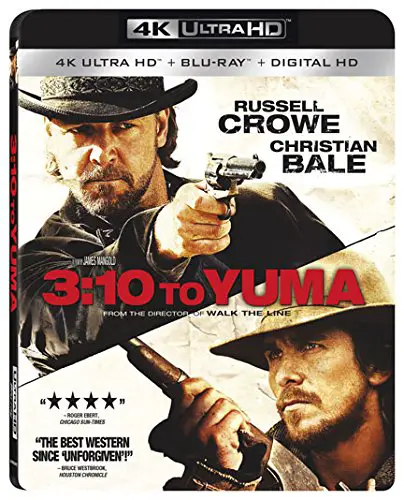 3:10 to Yuma (2007) is one movie that's hard to forget, and soon the 2x Oscar-nominated title from director James Mangold will be available for home viewing in 4k. The Ultra HD Blu-ray disc will hit stores on May 2, 2017, featuring 3840 x 2160p video resolution with an immersive, high quality English DTS-X soundtrack. A DTS-HD Master Audio 7.1 track provides backup for audio systems that don't support DTS-X.
As far as bonus material it doesn't look like the 4k release includes anything new. Previously-released extras include deleted scenes, audio commentary with director James Mangold, and the making-of documentary "Destination 3:10 to Yuma" among other special features.
3:10 to Yuma has an all star cast that includes Russell Crowe, Christian Bale, and Peter Fonda. As mentioned above, the film was nominated for two Academy Awards including Best Achievement in Music Written for Motion Pictures Original Score (Marco Beltrami), and Best Achievement in Sound Mixing.
The film is currently available to pre-order from Amazon for a humble $17.96 (List: $22.99).
3:10 to Yuma (2007) Special Features
"Destination 3:10 to Yuma" Making-Of Documentary
"Outlaws, Gangs, and Posses"
"An Epic Explored"
"3:10 to Score"
"Sea to Shining Sea"
"A Conversation with Elmore Leonard"
"The Guns of Yuma"
Deleted Scenes
Audio Commentary with Director James Mangold
Historical Timeline of the West (Blu-ray Only)
Inside Yuma: An Exclusive Blu-ray Disc™ Interactive Experience