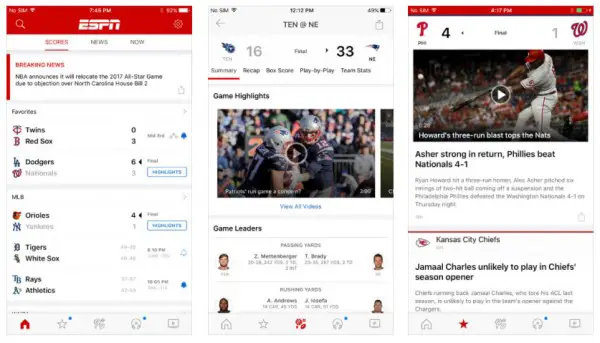 The official ESPN app for iOS devices including iPhone and iPad has been updated with several improvements that optimize for iOS 10. New features include the ability to use iMessage to share scores and watch game highlights by just tapping the app store logo within Messages and adding the ESPN app.
The update now lets Apple Watch users customize their watch face with your favorite team's games.
And, 3D Touch features allow users to Force touch on the app icon to read news about favorite teams, launch a live stream, or listen to ESPN radio.
Other additions include Favorites (Game Cards in your favorites feed); New Clubhouse (WWE coverage arrives); and Spanish language sports coverage from Mexico, Argentina, Columbia and more in the settings.
The app is, of course, different from the WatchESPN app that streams video from ESPN channels. The ESPN app is more geared towards providing dynamic scores, news, fantasy stats, podcasts and live audio. Although, WatchESPN is integrated into the app through the Watch option in the main menu.