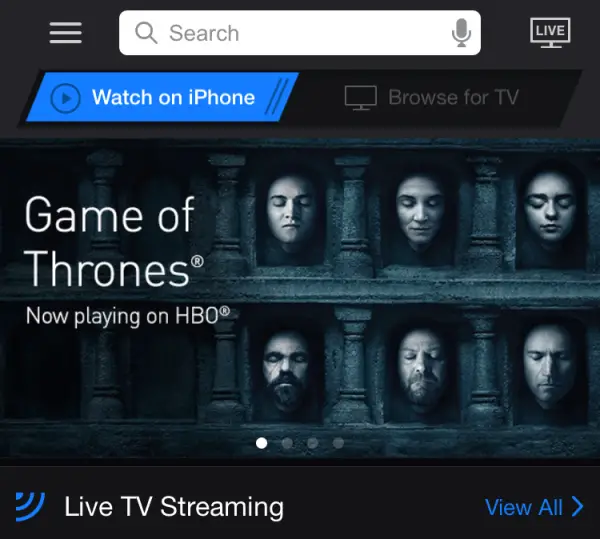 The latest update to the mobile app for Apple iPad and iPhone has fixed some bugs and been made more stable, but has also added a few interface changes. Among the updates is a new Play button for each channel within the Live Streaming Guide that makes it quicker to view content (pictured below). And, there is now a Live button in the form of a small icon in the upper right of the Home page to jump to live programming quicker (see the screenshot above).
In addition, the developers at DirecTV have redesigned the parental information from Common Sense Media that shows up on the details page of titles and shows that have been reviewed (look for the green check mark at the top or bottom of screen).
Other parts of the app have remained pretty much the same: the video player screen hasn't changed, Live TV Streaming is still available under the triple-bar menu in upper left, and most content is still separated by Watch on iPhone/iPad and Browse for TV, with options to Watch or Record depending on title.
Apple iOS users who update the app will most likely have to quit the application, restart, and log-in to authenticate their accounts before seeing all the updates.