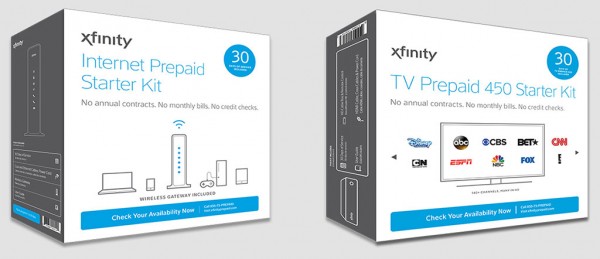 One of the reasons so many people cut the cord with TV service providers is they don't want to be stuck in long term contracts, especially when those contracts are expensive. CBS was the first to offer internet-delivered television service month-to-month, followed by Sling TV and premium movie channels such as HBO.
Now, Comcast has announced prepaid options for Xfinity TV and Xfinity Internet services. While customers will have to pay a one-time set-up fee that includes required equipment such as a Wi-Fi modem, Digital Television Adapter, and remote control, they will get 30 days of service free. Then, new customers can pre-pay for service for as long as they want, or refill their subscription any time for either seven or 30 days.
Comcast didn't reveal pricing for the two service options, or what details on internet speed or TV channels included with the pre-paid services. Neither did they announce how much the set-up fees would be.
The new pre-paid services will be available in five states by the end of this year including Illinois, Michigan, Georgia, Florida and Indiana. Comcast says the pre-paid options will be available everywhere by the end of 2017.
Comcast has also partnered with Boost Mobile to offer the Xfinity Prepaid services at select Boost Mobile locations later this year, and all locations where Comcast is available by the end of next year.