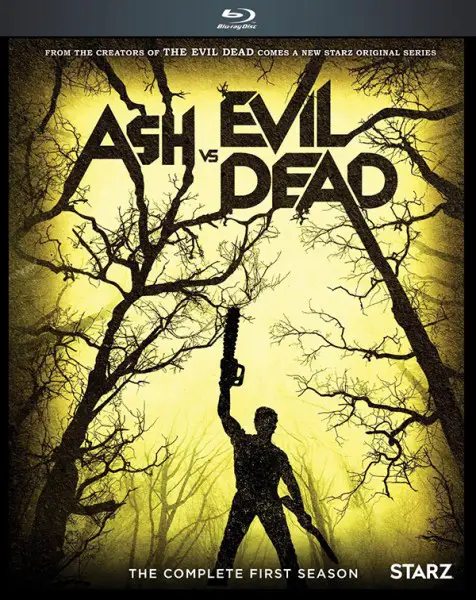 The Starz Original Series "Ash vs Evil Dead" will get it's first home media release when Season 1 hits stores on Blu-ray Disc August 23, 2016. The 2015 season will come in a 2-Disc Blu-ray set (as well as 2-Disc DVD edition) from Starz/Anchor Bay containing all 10 episodes of the comedy/horror series.
"Ash vs Evil Dead" is the long-awaited follow-up to the classic horror film franchise The Evil Dead. The series follows Ash, the stock boy, aging lothario and chainsaw-handed monster hunter who has spent the last 30 years avoiding responsibility, maturity and the terrors of the Evil Dead.
Most episodes of "Ash vs Evil Dead" are 30 minutes long, with the exception of the premiere 40-minute episode and 37-minute finale.
"Ash vs Evil Dead" stars Bruce Campbell as Ash Williams, Lucy Lawless as Ruby, Ray Santiago as Pablo Simon Bolivar, Dana DeLorenzo as Kelly Maxwell, and Jill Marie Jones as Amanda Fisher.
The series is executive produced by Sam Raimi, Rob Tapert, and Bruce Campbell, the original filmmakers of the franchise, and Craig DiGregorio ("Chuck"), who serves as executive producer and showrunner.