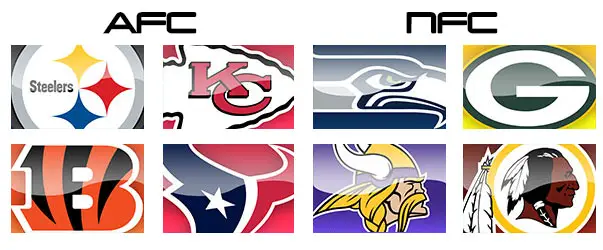 Yesterday's exciting lineup of NFL games has determined which teams get byes and which will be part of the Wild Card weekend on Saturday, Jan. 9th and Sunday, Jan. 10th.
Leading off the Wild Card weekend will be the Kansas City Chiefs at Houston Texans starting at 4:35 pm ET; a rematch of the first week of the 2015/2016 season in which the Chiefs beat the Texans 27-20.
In the second AFC Wild Card game on Saturday at 8:15 pm ET, Pittsburgh heads to Cincinnati to face the Bengals without Andy Dalton who broke his thumb during a tackle in Week 14. In that game, the Bengals fell to the Steelers 33-20.
On Sunday at 1:05 pm ET, Seattle will face Minnesota on their home turf to battle for an NFL position. Both teams come off impressive wins in Week 17.
Finally, the late afternoon Sunday game at 4:40 pm ET will decide whether or not Green Bay or Washington will get the other NFC spot.
In the AFC, both Denver (No. 1) and New England (No. 2) get a bye. In the NFC, Carolina (No. 1) and Arizona (No. 2) get the bye week.
NFL Wild Card Weekend 2015/2016 Schedule
Saturday, Jan. 9, 2016
Kansas City Chiefs at Houston Texans, 4:35 pm ET (ESPN/ABC)
Pittsburgh Steelers at Cincinnati Bengals, 8:15 pm ET (CBS)
Sunday, Jan. 10, 2016
Seattle Seahawks at Minnesota Vikings, 1:05 pm ET (CBS)
Green Bay Packers at Washington Redskins, 4:40 pm ET (FOX)