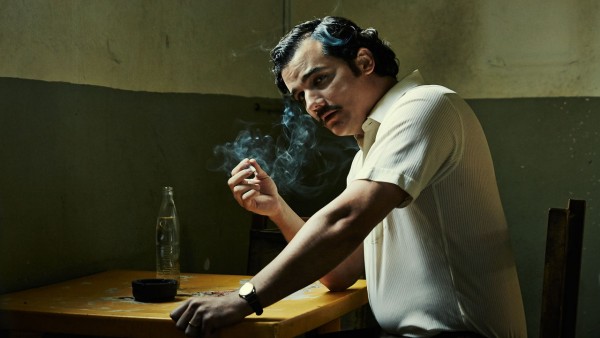 "Magical realism is defined as what happens when a highly detailed, realistic setting is invaded by something too strange to believe."
Those are the words that introduce Netflix's new original series titled Narcos, about the rise of Columbian drug lord Pablo Escobar. The series starts in Columbia in 1989, where cutting-edge technology was only available to the government, the rich, and crime organizations who could afford it.
Drug enforcement agent Steve Murphy (played by Boyd Holbrook), provides narration over the first episode titled "Descenso," that intertwines newly shot material with documentary footage to set the stage for the series.
Narcos stars Maurice Compte (End of Watch), Boyd Holbrook (Gone Girl), Pedro Pascal (Game of Thrones), and Wagner Moura (Elysium) as drug lord Pablo Escobar. The series was directed by Brazilian José Padilha, known for Elite Squad (2007) and RoboCop (2014).
Netflix has launched all ten, 52-minute episodes on their streaming platform. The series is available in HD resolutions including 720p and 1080p, as well as 4k resolution for Ultra HD TVs and displays.
Netflix recommends a minimum of 5.0 Megabits-per-second internet bandwidth for HD quality, and 25 Mbps for 4k Ultra HD.