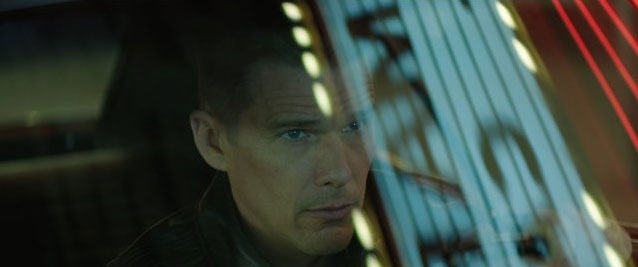 The military drama Good Kill has been released early to Digital HD format, about two-and-a-half weeks before Blu-ray Disc and DVD arrive on September 1st. The movie is available in HD for $14.99 from most online services including Amazon Instant Video, Apple iTunes, Google Play, and Vudu. CinemaNow is selling the title for $15.99 in HD.
The Apple iTunes and CinemaNow purchases include a 15-second extra that is barely worth mentioning.
In Good Kill, Ethan Hawke stars as drone pilot Major Thomas Egan who questions the use of remote weapons as he performs missions against the Taliban. The film was written and directed by Andrew Niccol, based on actual events that took place. January Jones, Zoë Kravitz, and Bruce Greenwood also star in the movie.
Check out the behind-the-scenes clip where Ethan Hawke discusses the ethical challenges his character faces in the film.