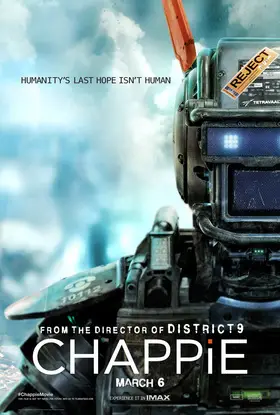 Columbia Pictures' Chappie has been released early to Digital HD, two weeks ahead of Blu-ray Disc, DVD, and On Demand on June 16th. The film was directed by Neill Blomkamp (Elysium, District 9), and stars Dev Patel (Slumdog Millionaire),  Sharlto Copley (Maleficent), and Hugh Jackman (The Wolverine).
Chappie on average is $14.99 for either the SD or HD digital version of the film. (See pricing and availability below.) Several online services are including bonus content with the digital purchase including Vudu and Xbox Video. iTunes Extras contains over 85 minutes of bonus material, including alternative and deleted scenes, and behind-the-scenes featurettes.
For those of you just starting a digital movie collection, considering choosing one platform and sticking with it. Not all online video services are linked, so you may end up searching for titles you own across several platforms. UltraViolet is one of the most common platforms, and services that support it include CinemaNow, Paramount, Verizon FiOS On Demand, Vudu, and others. Apple's iTunes is another widely popular service that's compatible with some Disney digital movie redemption codes. Other popular video platforms include Amazon Instant Video and Google Play.
Here's where you can buy Chappie in Digital HD.
Chappie Digital HD/SD Price Comparison*
Amazon Instant Video – $14.99 (SD) $14.99 (HD)
Apple iTunes – $14.99 (SD) $14.99 (HD) – includes iTunes Extras
Cinema Now – $15.99 (SD) $15.99 (HD)
Flixster  – NA
Google Play – $14.99 (SD) $14.99 (HD)
Sony Entertainment Network – $12.99 (SD) $14.99 (HD) (Theatrical version)
Verizon FiOS On Demand –  $14.99 (SD) $15.99 (HD)
Vudu (Walmart) – $14.99 (SD) $14.99 (HD/HDX) – Includes Bonus Content
Xbox Video –  $14.99 (SD) $14.99 (HD)
Xfinity On Demand – NA
*Prices at time of article publication.
NA – Not available upon publication.
Take a look at other Digital HD price comparisons of popular movie releases.