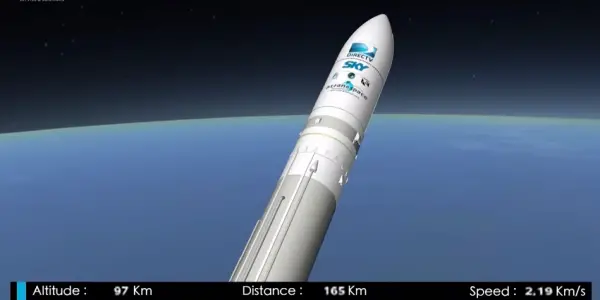 DirecTV successfully launched a new satellite that will increase capacity for HD and 4k Ultra HD programming. The D-15, along with the Sky Mexico satellite SKYM-1, were launched together on a single ARIANE 5 launch vehicle operated by Arianespace from the spaceport in French Guiana.
DirecTV says the D-15  CONUS (Continental United States, Hawaii, Alaska, & Puerto Rico) beam satellite is the most versatile in the fleet, and the first to launch in 10 years. As well expanding capacity for HD and 4k channels, the D-15 will also serve as a backup to other CONUS transponders.
The SKYM-1 is SKY MEXICO's first owned-and-operated satellite, and will double HD capacity for SKY MEXICO as well as provide direct-to-home broadcast services to Mexico, Cuba, Central America, and the Caribbean.
The D-15 is one of 12 satellites owned and operated by DirecTV, and the 17th launched for DirecTV services.
Check out the video below of the launch of Arianespace's Ariane 5, housing the DirecTV-15 and SKY México-1.