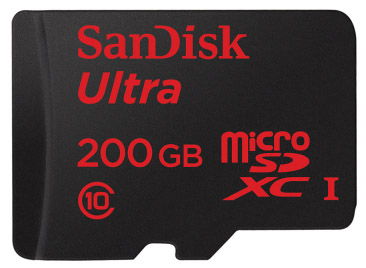 SanDisk has announced a consumer-based microSD card with a capacity of 200GB for use in mobile devices such as Android smartphones and tablets. The Ultra microSDXC UHS-I card, a Premium Edition from SanDisk, has been rated to hold 20 hours of Full HD video at 1920 x 1080 resolution. As far as transfer speed, SanDisk has clocked the microSDXC UHS-I at up to 90MBs per second. In layman's terms, this can be equated to copying approximately 1,200 3.5MB photos per minute with USB 3.0.
Available worldwide sometime in the second quarter 2015, the 200GB card will carry an MSRP of $399.99 and come with a ten-year limited warranty.
"Seven out of ten images captured by consumers are now from smartphones and tablets," said Christopher Chute, Vice President, Worldwide Digital Imaging Practice, IDC. He adds, "By 2019 smartphones and tablets will account for nine out of 10 images captured."
The new large format microSD card follows the release of the 128GB SanDisk Ultra microSDXC card about a year ago.