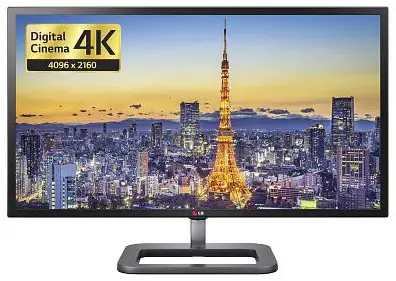 LG has released a new professional-grade 4k monitor for PCs that's reasonably priced for users who want to up the quality of their display. With a suggested retail price of $1,399, the Digital Cinema 4K Monitor (Model# 31MU97) features 4096 x 2160 pixels in a 31-inch class (31.0-inch diagonal) screen size. The 31MU97 supports 10-bit color depth with over 1 billion colors, and meets the Digital Cinemas Initiatives' standard for 4k displays. The monitor also displays 99.5 percent of the Adobe RGB standard.
Other features include LG's True Color Pro calibration software called "Dual Color Space," and LG's IPS panel for more accurate color when viewing from wide angles. Service to the Digital Cinema 4K Monitor includes two HDMI ports, a DisplayPort, MiniDP, and three USB 3.0 ports.
LG's target consumer for the 31MU97 includes photographers, videographers, video editors, and graphic design professionals.
The new 31MU97 is available at national retailers including Amazon, Fry's, Newegg, B&H and Tiger Direct.