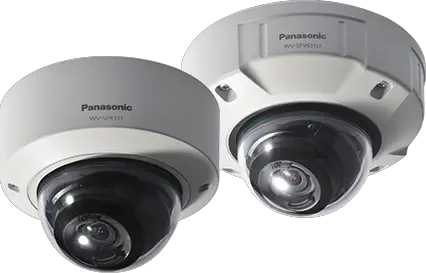 Want to see exactly who is snooping around your front yard at night? Panasonic has introduced two new surveillance cameras based on their 4K ULTRA HD Engine that'll produce high resolution stills of intruders. The Panasonic i-PRO ULTRA 360 series cameras will be available as an indoor model (WV-SFV480) and outdoor version (WV-SFN481) with anti-shock, vandal resistant chassis that meet IP66 standards for dust and water resistance.
The cameras feature a new ½" 12MP image sensor that captures color at less than 0.4 lux (approximately the luminance you'd find under a full moon on a clear night). And, if the infrared cutoff filters are removed under darker situations the camera's Super Chroma Compensation (SCC) effectively preserves color rendition.
Both of the ULTRA 360 models are dome-type surveillance cameras that capture panoramic views up to 360-degrees, with the ability to encode up to four H.264 streams simultaneously via the camera's on-board processor.
Panasonic hasn't revealed pricing yet on the 4k surveillance cameras, only that they'll be available at authorized dealers this coming December.
[Note: Panasonic 3 Series WV-SFR311 and WV-SFV631L shown in photo. ]