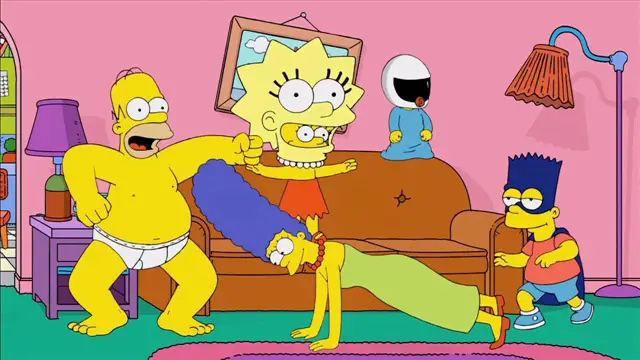 If you listen to any entertainment news you're probably already aware FXX will run the longest TV series marathon ever, airing every episode of The Simpsons for twelve days straight. The thought is just mind boggling. The Simpsons has been around since 1989, and twenty five seasons, adding up to a total of five hundred and fifty two episodes.
What else happened in 1989? Michael Keaton starred as the Dark Knight in the Tim Burton film Batman; Michael Jordan scored his 10,000th point in the NBA; and George H. W. Bush took over as President of the United States after Ronald Reagan's eight years in office.
Oh, it seems so long ago. Did The Simpson's creator Matt Groening ever imagine the show would be going into its twenty-sixth season this September?
Which characters have withstood the long haul? Homer Simpson (played by Dan Castellaneta), Marge Simpson (Julie Kavner), Bart Simpson (Nancy Cartwright), Lisa Simpson (Yeardley Smith), Moe Szyslak (Hank Azaria), and Ned Flanders (Harry Shearer) have been in all episodes without a missing a beat.
In addition to the TV episodes, FXX will broadcast the 2007 animated film The Simpsons Movie directed by David Silverman. The almost 90-minute film starred all The Simpsons regulars, with Albert Brooks, Tom Hanks, and Joe Mantegna making voice "appearances" in the film.
The Simpsons marathon on FXX starts today, August 21 at 10 a.m. Eastern Time.
The FOX-owned channel FXX launched almost a year ago in September 2013, replacing what was the Fox Soccer channel. The channel is broadcast in 720p (HD) or downgraded to 480i letterbox format on standard-definition TVs.
http://youtu.be/NyN3wH5EC9M?list=PLK4svUxKi0j8nA5Gr0p78kU4hYgMZrtep