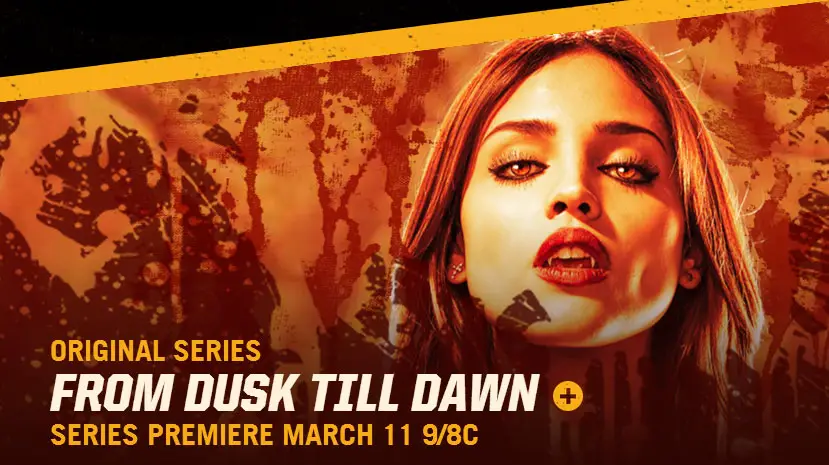 Broadcast followed by episodes released weekly in Canada, the U.K. and European, and Latin America markets.
The Netflix Original Series From Dusk Till Dawn will premiere on the El Rey Network next Tuesday, March 11 at 9pm ET/PT. The 10-episode series is based on Robert Rodriguez's 1996 film From Dusk Till Dawn, and will star D.J. Cotrona (G.I.Joe: Retaliation), Zane Holtz (The Perks of Being a Wallflower), Robert Patrick (Terminator 2: Judgment Day), and Don Johnson (Miami Vice) who appears in two episodes.
Following the premiere on national television, From Dusk Till Dawn will launch on Netflix in several international markets including Canada, the U.K., Ireland, the Netherlands, and other Nordic countries where Netflix provides service. The first episode will be available to stream 24-hours after the premiere on El Rey Network in the US.
One week later, on Mar. 17, From Dusk Till Dawn will premiere in Latin American markets. Netflix plans to release one episode per week in all international markets, a strategy that differs from Netflix's other original series such as House of Cards which was released in its entirety. However, with episodes of From Dusk Till Dawn being offered on traditional cable and satellite television systems week-by-week the tactic will avoid any early spoilers.
El Rey Network (which is Spanish for The King Network) was launched by director Robert Rodriguez and Univision in 2013. The network is currently available on on Comcast, DirecTV and Time Warner Cable.
You can check out the trailer for the TV drama From Dusk Till Dawn below.