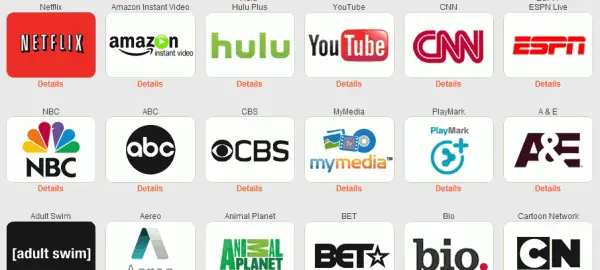 PlayOn has upgraded their video quality, offering HD resolution streaming and recording on multiple devices including Roku, PlayStation 3, and Xbox 360, as well as mobile devices such as iPhone, iPad, and Android phones. (See the full list below.) To be specific, the service provides up to 720p resolution (normally 420p), for devices and PCs with quad-core processors. PlayOn offers an online alternative to traditional TV service providers, allowing you to presumably cut-the-cord and access over 100 networks and the streaming content those networks provide. The service lets you browse channels via your web browser, and watch on your TV or supported mobile device.  The company's PlayLater service lets you record content (now in HD), to watch later. Media boxes such as the Roku, PlayStation and Wii U serve to deliver programming to your TV, with PlayOn acting as a channel guide. The PlayOn software also supports streaming video on mobile devices via 3G or 4G networks.
PlayOn devices currently supporting HD
PlayStation 3
Wii U
Xbox 360
Google TV
Roku
Android phone
BlackBerry 10 Smartphones
iPad and iPhone
PlayOn says support for Chromecast is coming soon.